If there's something that I'm absolutely crazy for, it's mussels. Muscles and mussels, can't go wrong, right? But seriously speaking, they are the easiest thing to whip up in the kitchen and at a fraction of the price you'd pay in a restaurant. When my boyfriend brought over this massive 4 lb pack of mussels over for an "appetizer", I might have squealed. Of course, the control freak in me had to take over. And working with the ingredients I had on-hand, it turned out to be quite spectacular! I present to you, my white wine mussels with celery and bacon.
Mussels really are the easiest thing to make. All you need are the mussels, a liquid, and whatever else you'd like to add in. You are basically steaming it (which takes no time at all) and adding fresh herbs and aromatics. The combinations are endless! I've done a Thai version of mussels with coconut milk, lemongrass, cilantro and curry paste, have also made a tomato version with freshly-shaved fennel and chorizo…but this time around, I was going traditional with a white wine and cream base.
For me the main components of a successful mussel dish would be a strong, flavourful liquid (ie. wine, coconut milk), a fresh herb (ie. cilantro, parsley, fennel) and salt (ie. bacon, pancetta, chorizo, curry paste). There is natural saltiness when you steam the mussels - that fresh, briny seafood flavour but it's always nice to have something to compliment that. Add some grilled bread or some French fries and you've got a complete meal!
In our case? We ate the entire 4 lbs of mussels to ourselves. As an appetizer. But honestly, who can blame us? So refreshingly delicious!
WHITE WINE MUSSELS WITH CELERY & BACON - serves 4-6
2 tbsp olive oil

2 pieces of bacon, chopped

½ onion, sliced

4 small stalks of celery, sliced

5 cloves garlic, sliced

4 lbs mussels, cleaned and rinsed

1 bottle of dry white

½ cup whipping cream

salt + pepper, to taste

1 bunch Italian flat leaf parsley, roughly chopped
In a large pot, heat the olive oil over medium-high heat.

Add in the bacon and saute until fat starts to develop.

Add your aromatics - onion, garlic and celery and saute until softened.

Add in the mussels and wine. Cover the pot and steam for 5 - 6 minutes, or until the mussels open.

Finish with a drizzle of cream. Mix to incorporate with the sauce. Add salt and pepper to taste if necessary.

Sprinkle with Italian flat leaf parsley if needed and serve with crusty bread or French fries.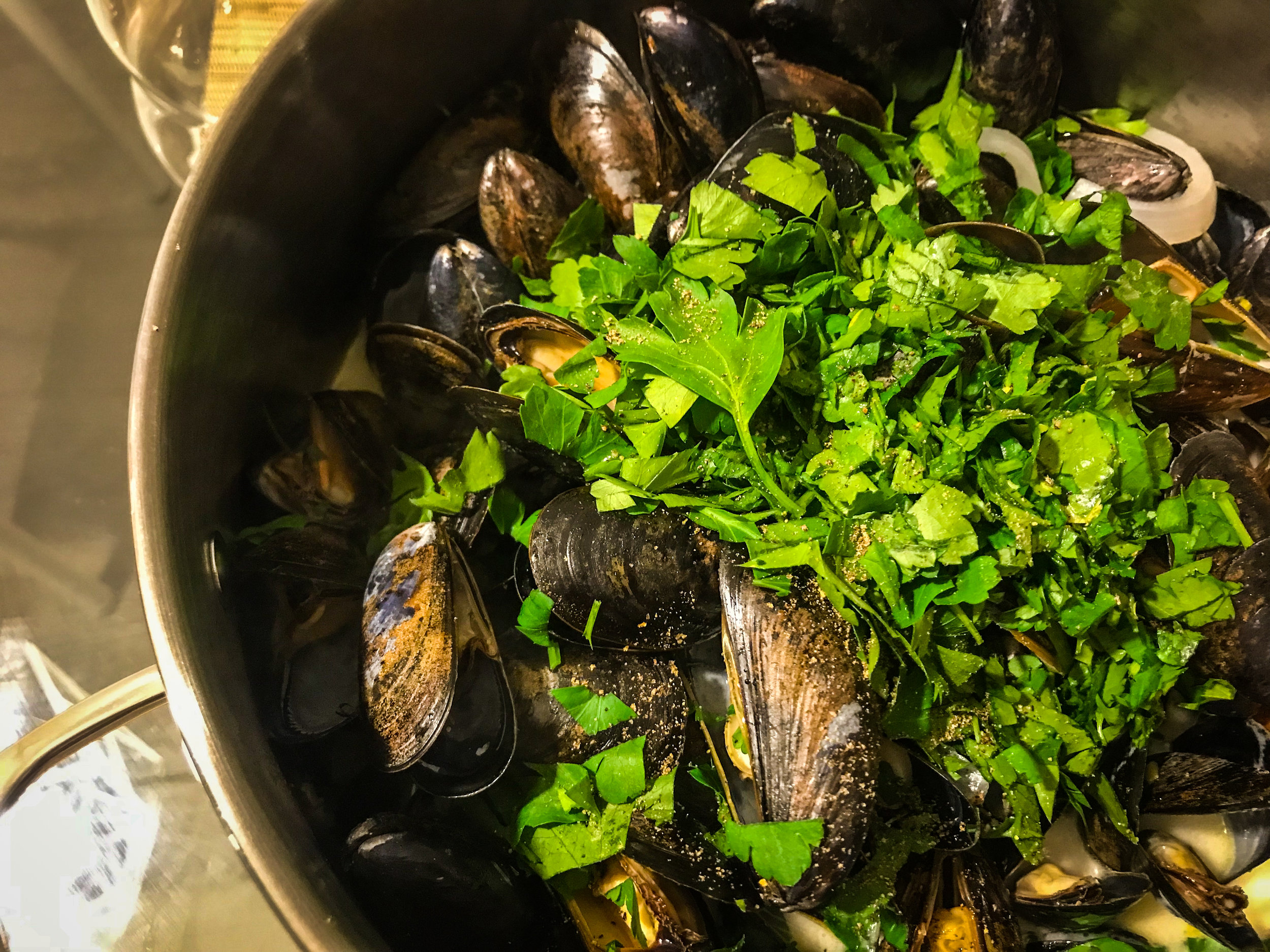 WHITE WINE MUSSELS WITH CELERY & BACON